Post Summary.

Reading time: ~5 minutes
Do you want to know all about iPage Hosting Review? There are plenty of web-hosting service providers claiming to be the best, cheapest, most efficient, and what not type of hosting providers? But it's not that we can trust any of them blindfolded. They need to be reviewed in detail and judged on strict parameters that would determine whether they are worthy of their claim or not.
In this piece, we will be reviewing iPage thoroughly and giving an honest yet critical review, and we'll let you be the judge of whether the review is on the point or not. So if you are a user of iPage or looking to avail of their services, this review is a MUST for you to read.
About iPage:
iPage is a popular web-hosting and full-service domain provider. The company has been around for over two decades and is said to be hosting over 1 million websites on its platform across its two data centers in the USA (their claim, not ours). They were founded in 1998 and said to be one of the most inexpensive and well-performing web-hosts in the market.
The Review:
Without beating about the bush, we will directly get to the point. Listed below are key characteristics with their relative statistics to help us quantify the overall performance of the iPage hosting service. We will be going through them one by one, so we can come to a just conclusion (we're so benevolent).
Pros:
Affordable Hosting Price:
The first thing that pops into the mind when opting for a web host is the price. How much are they charging, and is there someone providing the same services at a cheaper rate? Well, I don't think it gets any better than what you'll get at iPage. They have a special introductory offer of $1.99 per month. The catch? Well, you'll have to pay upfront for the next three years if you want to avail yourself of this package. But in general, for the past few years consistently, they have been known to be one of the cheapest/affordable web hosts. You can select one of the three payment terms:
They only have one shared hosting plan so you know that you won't be forced to upgrade to get better service; you get everything on the first go, which is a big plus.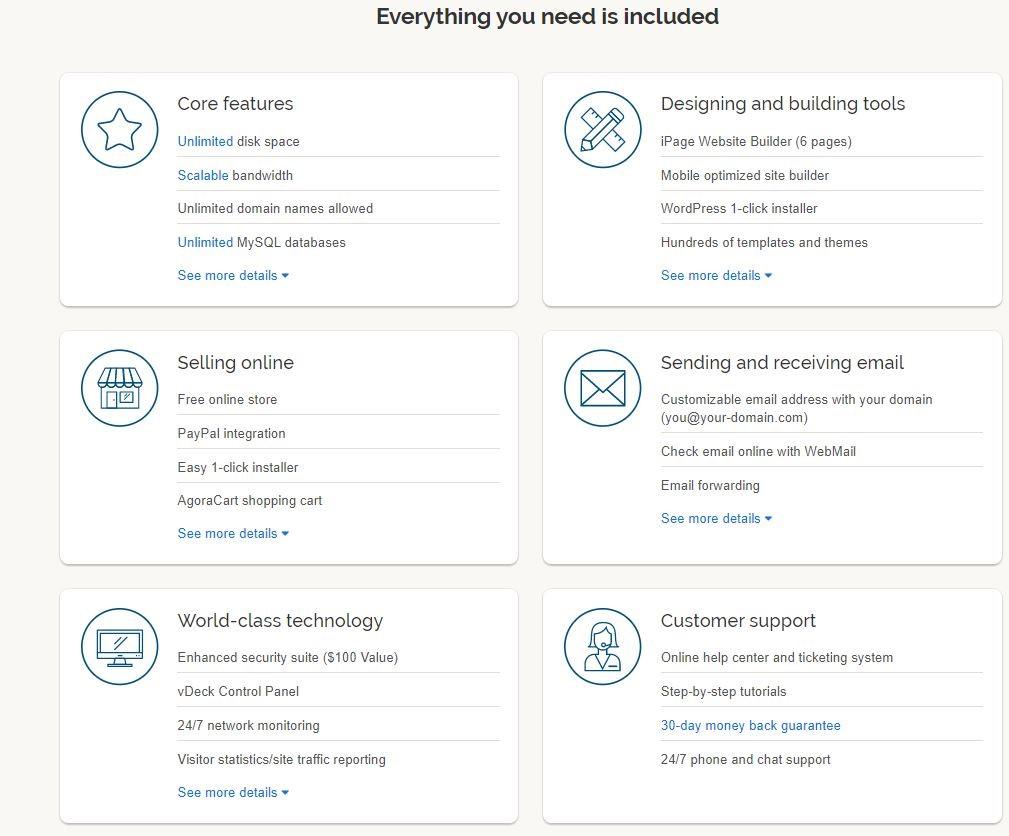 One of the main attractions they have to offer is free domain registration for the first year along with an email address and SSL certificate.
Each branded email includes:
Email forwarding.
Auto-responders.
Spam filters.
Virus checking.
POP3/IMAP accounts.
The plan also comes with an unlimited MYSQL database, disk-space, and scalable bandwidth. They also have an easy drag and drop website builder that has hundreds of templates and the capability to build a six-page website for you.
With plenty of open-source apps that are ready to be installed (including CMS and blogging software)
You can decorate your website with:
WordPress.
Joomla.
Drupal.
PixelPost
b2evolution.
Gallery2.
ZenPhoto photo galleries.
Gbook.
phpBB.
SMF forums.
For eCommerce websites, iPage helps with PayPal integration and provides management apps such as:
AgoraCart.
OpenCart.
OSCommerce.
PrestaShop.
Zen Cart.
TomatoCart.
Many online studies have concluded that faster page speed is directly related to the conversion of leads (high conversion rates) and slow loading speed has the opposite effect. iPage takes this seriously and has an average loading time of 746ms (a little under a second) which is quite impressive.
Just as with the loading speed, the average Uptime offered by iPage is about 99.96 to 99.99 (statistics taken from multiple external sources). This means that iPage will ensure your website is available to your users almost all the time. As even with all the features, what is the point of having a website if your users can't readily access it any time they want?
Money-Back Guarantee (30 days):
If you are not pleased with the services of iPage (which is highly unlikely) you have the advantage of getting a complete refund within 30 days of the initial purchase of your domain/hosting service.
Of course, you will be charged for the domain name (provided free for the first year) and additional services.
You will be charged 15$ to cover the cost of your domain name if you ask for a refund, but you will still own the domain name and use it with another hosting company.
Amazing Customer Support Service:
A sign of excellence and professionalism, iPage has a readily available 24/7 customer support service that offers help through an online ticketing system and helpdesks. Though they provide chat and phone support, they also provide tutorials in case you want to learn to fix an issue yourself.
Cons:
And now, to level the field, here are some cons.
They Charge for site Migration:
Most hosts don't charge you if you want to migrate your website to their server, so basically free. But the iPage charges a one-time fee of $150, which is quite high.
Additional Services Cost Big Bucks:
Although the basic plan seems perfect for small websites and contains all the necessary features (more or less) one may need it. Additional services such as Site Lock Support (to protect from external attacks like malware or hacking) and Basic Backup Service (to create a regular backup of your data) can cost you up to $899.64 (for Site Lock Support).
cPannel is an industry-standard that helps you manage your website from anywhere. It is quite robust and powerful. Instead of cPannel, iPage use an alternate called vDeck which is neither that robust nor that versatile and powerful as cPannel. If you have used cPannel before, you will notice the difference.
Don't take it literally; it doesn't mean they will shut you down for no reason. If your website uses a lot of disk space and you have a lot of data to store, then chances are, you will affect the performance of other sites on the same server. In this case, they can shut your website down.
The bad news here is that they can do it without informing you first (as stated in their terms and conditions).
But if you have a small website that doesn't take up that much space, you have nothing to worry about.
iPage Hosting Conclusion:
Didn't we say you are the judge? But if you ask us, the platform is ideal for small websites on any niche. They are affordable; provide you with quality service with a lot of essential and additional features with a free domain name. All in all, 3.5 stars out of 5 (4.5 for small websites).
Make your judgment based upon factors that benefit your website against those that negatively impact it. Be sure to give your feedback and share your experiences if you have or are still using their services.
https://www.youtube.com/watch?v=IKxic-7_Gn8&ab_channel=NanoWebs
FAQs
---
Is GoDaddy a good website host?
Yes, GoDaddy one of the best website host which you can find. We recommend to use it.
How much does web hosting cost?
It depends on web hosting. You can find a very cheap ($2.49) like very expensive ($730/month.).
Is GoDaddy owned by EIG?
No, it's not, because this is not an American company.
Thank you for reading!
Related posts