Free Plagiarism Checker Online - Check 1500 Words for Free
According to the Oxford dictionary, plagiarism is the act of presenting other people's ideas as your own without asking for their consent nor giving acknowledgment. With this, many published materials are being plagiarized, especially publications that are available online.
If you are constantly working on written tasks, you must have encountered researching a lot on different topics. Especially if you are a student, your curriculum would require you to do a lot of research, not just to write specific articles or essays but also to write a hundred pages of a study paper.
Writing research studies would make you look for related literature that will help you gain more credibility on your hypothesis and conclusion—having a lot of RRLs would require you to do in-text citations and references to avoid committing plagiarism. Sometimes, even the act of paraphrasing a statement could be an act of plagiarism. That is why you must be careful, so your professor will not label your work plagiarized.
On the other hand, even professional writers or anyone who is writing any material can commit plagiarism. It can happen especially if you did not correctly cite the actual author or reference the idea you used.
To avoid plagiarism, people are looking for ways to check it. With the advancing technology we have today, the internet has made it possible for writers to check their work and see if plagiarism can be detected.
With the various online tools, you can also look up free plagiarism detection tools to guide you write your paper. For a guide, here are some of the most recognized and reliable plagiarism checkers online:
1. Free Plagiarism Checker from Limitless Referrals
Of course, our would-be first. It would be strange if it were not first because you are reading it on our Limitless SEO Tools page 😊 There is not much to write about because you can test it yourself just on top of this article. Shortly, you can check up to 1500 words for free, limitless times.
2. Grammarly - $11.66/month
Grammarly, a plagiarism detection tool, is among the most popular in this field. This site can check your text and offers you suggestions to correct your citations. They can give you reference suggestions based on the following formats: Modern Language Association (MLA), American Psychological Association (APA), Chicago Manual of Style (Turabian)
Aside from guiding you not to commit plagiarism, Grammarly also has features to check your grammar and enhance your writing style. It also offers you tools to detect whether your article has the right tone for its purpose. If you need an All-in-One writing tool for your paper, you can visit their site and enjoy their service.
Grammarly Pricing:
Paid monthly: US$29.95 / month
Paid annually: US$11.66 / month ( Billed as one payment of US$139.95 )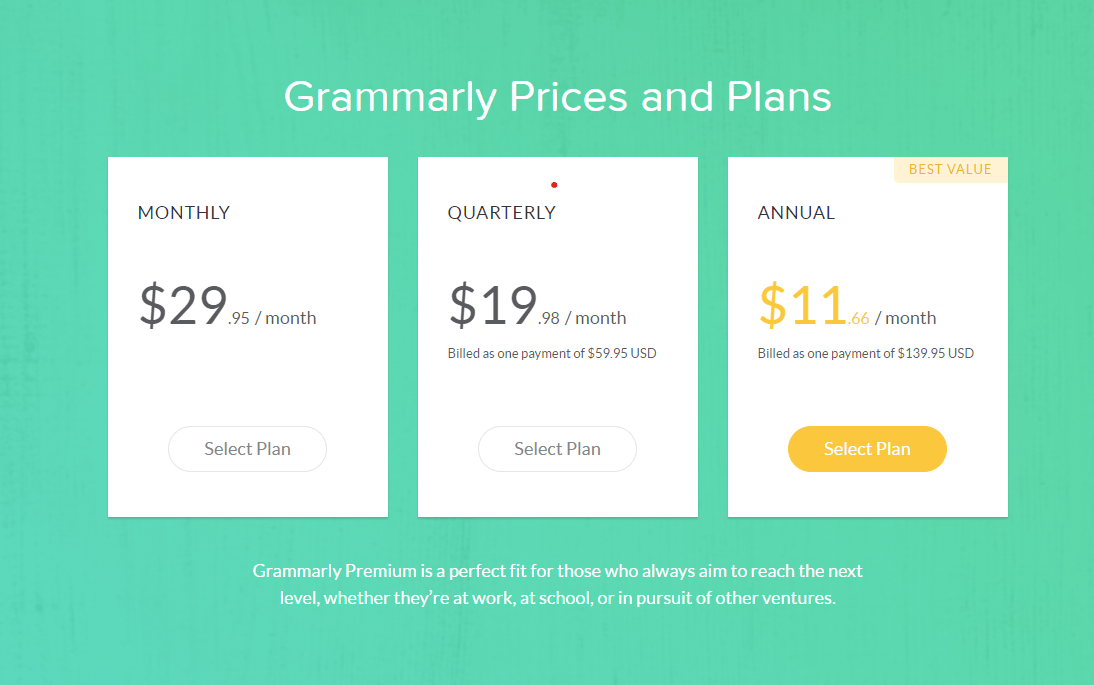 3. Copyscape
For online sites/ blogs owner, Cityscape provides you a free plagiarism checker to find out if your web page is copied online. You must copy your link on their website, and you will be able to find out if anyone has stolen your content. Copyscape also offers a service to create your online page a banner to warn the potential plagiarist.
What is more impressive in Copyscape is that they provide you guidelines on plagiarism. As you visit their site, you can find their information on plagiarism, how to prevent it, and how to respond if you find out that your content has been stolen.
Having this tool can make you secure your online site and be more confident that your content will be appropriately acknowledged or cited to any online platform that it will be posted. Also, with the help of banner service from Copyscape, plagiarists will have low intent to plagiarize your work.
Copyscape pricing:
Copyscape Premium: 3¢ per search (up to 200 words) plus 1¢ per extra 100 words.
Copysentry Standard: $4.95/month for up to 10 pages, plus $0.25/month per additional page.
Copysentry Professional: $19.95/month for up to 10 pages, plus $1.00/month per additional page
4. Duplichecker
Duplichecker is also one of the most reliable plagiarism checkers online. Using this tool, you will be given a percentage of results. It includes the percentage of plagiarism detected and unique statements found.
There are three ways to use this site for plagiarism checking:
You can copy and paste a text
You can upload a document
You can insert a webpage URL
Just like Copyscape, Duplichecker also has a guide about plagiarism on their site. Also, this site has other free tools that you can enjoy, including Text Analysis Tools Keyword Research Tools SEO Backlink Tools Image Tools Website Checker Tools Unit Tools Web Management Tools IP Tools Domain Tools Password Manager PDF Converter Tools Binary Tools
Duplichecker pricing:
It is free, but you are limited to 1,000 words per search
These four plagiarism checkers online are just some of the most used and recognized sites. There are other available checkers, but some do not have the best quality to be trusted.
Why online plagiarism detector is better than manual checking
Using an online checker is better than manual checking for the following reasons:
1. Time-efficiency
Using an online plagiarism detector will save you a lot of time when you are counterchecking your work. A few clicks away will automatically provide you results whether your written document has plagiarized statements or not. Meanwhile, doing it manually can take you hours before you can finish.
2. Accuracy
Since plagiarism checker online is programmed, it leaves no space to miss out on possible plagiarism. Thus, giving you credible results. Although for this part, you must choose wisely on the online tool you will use. Other sites offer a plagiarism check but do not suitable for your paper. With this, the sites listed above are just some of the suggested and trusted plagiarism checkers online.
3. Suggestions to improve
What is more impressive about today's plagiarism checker tools is that they detect what's wrong and give you suggestions to do better. Upon having the detection results, an online checker also provides you with solutions to improve your writing. As you eliminate plagiarized content, you also learn to cite references properly and acknowledge real authors of the ideas you used.
With today's technology, almost everything has become possible. The advance we have today pave the way to make our lives easier each. Including here is the invention of online tools and programs to enhance our work, specifically written ones.
As you continue your endeavors as a writer, student, or any profession you have, do not forget to be ethical. Plagiarism checkers online is just one of the innovative programs made to help work easier. As you continue using it, you avoid committing fraud, and you give yourself a chance to improve in writing.
Alternative tool
When we search for plagiarism checkers on the internet, we can have a list of hundreds of tools available, but each of them is authentic?
It can be a hectic job to find an authentic plagiarism checker, so the easiest way to get a good one is to check the tool's features.
All you need to focus on your requirements at first, and then you can easily decide which plagiarism checker can be suitable.
Check-plagiarism.com is one of the reliable sources of highlighting duplicate content, and once you know about the plagiarized text, you can easily remove it.
A free tool can attract many people, and fortunately, this tool is free of cost and readily available.