Post Summary.

Reading time: ~3 minutes
There could be countless reasons why your website is not ranking well in Google search results but here I am going to tell some of the most obvious ones which I have personally experienced.
Google's algorithm is secret and no one knows about it so it is almost impossible to find out the root cause of why you are not ranking in Google…
…but,
if you do the following steps you will definitely see a positive movement in search results (Guaranteed).
Why Your Website is Not Ranking Well In Google Search Results
The following could be the reasons and fixing them will definitely help.
1. Your On-Page SEO Sucks
This is probably the most basic stuff when it comes to ranking a particular page for a particular keyword.
I am sure you know for which keyword you want to rank your particular page.
For the sake of example, let's say that you want to rank for the term: SEO
So, in order to rank this term, you must add this keyword in particular places so Google can easily understand the topic of your page.
The keyword must appear in:
Title Tag (only 1 time)
Meta Description (only 1 time)
URL (permalink)
H1 Tag (only 1 time)
H2 Tag (only 1 time)
In the 1st Paragraph of the Content (1 time)
Anywhere in the middle of the Content (minimum 1 time)
At the end of the Content (Concluding Paragraph)
Along with this, you also have to add some LSI keywords for better rankings.
Now, the question is…
…how to find LSI Keywords?
Well, the answer is very simple, just type your keyword in Google and at the end of the search results, Google shows a Search Related Box with some key terms which people also search.
You can see it in the screenshot: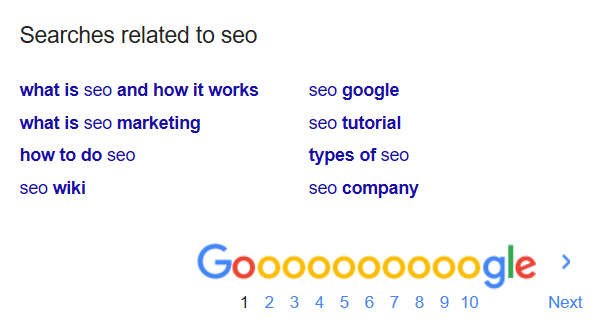 These are all LSI keywords and you can pick a few of them which make sense in your article.
2. Your Competitors Have More Backlinks Than You
This is one of the most common reasons why you are not ranking well on Google search results.
Just check the backlink profiles of the top 10 competitors and compare them with yours. You will immediately realize the reason.
Please Note!
Do not check the homepage of your competitors. Only check the particular page for which they are ranking (in our case SEO).
After analyzing the backlink profiles, try to replicate the maximum backlinks of your competitors and then go a step further and build some quality backlinks to outrank them.
3. You are not Using SSL Certificate
If you are not having a secure HTTPS sign on your website then this might be the reason for your low rankings.
Google has officially announced that they give priority to those sites which are using the SSL certificate.
So, why shouldn't take this easy opportunity to rank higher in Google?
Watch this quick video tutorial to learn how to install SSL certificate using Cloudflare for free:
4. You Don't Have a Mobile-Friendly Site
Google has announced a mobile-first algorithm that clearly prefers those sites which are mobile-friendly.
So, make sure that your site is optimized for both desktop and mobile devices. Otherwise, you won't rank higher.
To check if you have a mobile-friendly site or not, visit the following URL:
If your site does not pass the test then I highly recommend that you install a mobile-friendly theme and optimize your site for both desktops and mobile devices.
5. You Have a Slow Loading Site
Trust me if you have a fast loading site your rankings will boost like a rocket but if it is slow then your rankings will drop like a stone.
First, I recommend you to check your load time using the following tools:
If your site loads under 3 seconds then you are good to go but if it is more than that then you should think of it.
If you are using WordPress then I have good news for you. Read this post to learn how to speed up your WordPress site using just 3 plugins.
Ranking Well in Google Key Takeaway!
I am sure that if you follow the steps you will definitely see a positive ranking boost in Google (wait at least 1 month before judging).
But, even after following the steps and doing everything right you are still not ranking well on Google then probably your competitors are super strong or they have more branded searches.
So, don't give up and focus on creating quality content and improving your brand and as your brand searches go up your rankings will too.
If you have any questions, feel free to use the comment box to ask.
FAQs
---
Is backlinks good for SEO?
Yes, absolutely. If you made backlinks it is 50% for success in your SEO.
Is SEO dead 2020?
No, it's not, and doesn't will be dead soon. SEO is a very important thing.
How much do backlinks cost?
The standard price for backlinks is $361.44
Thank you for reading!
Related posts